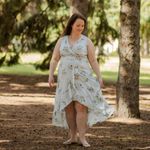 Stacey Tc
Saskatoon, Saskatchewan · From April 2020
First met 1998(ish) - Dating 2013 - Living together since 2015. 80s babies.
Happily married 🎉
August 6, 2022

Wedding Invitation rsvp Card - Unknown Guest
Jessica
, On February 12, 2022 at 22:43
We're in the part of the planning process where we're almost at the deadline for guests to respond with their RSVP card. My fiancé and I received an RSVP card back with a name on it of someone who...