Wedding fashion
Join group
Wearing a white dress with a beautiful design and everyone is telling you how gorgeous you look… aren't you happy? :) While you're waiting for this big moment to arrive, you can talk about dresses, suits, accessories, and other things, here..

Discussions

Changed my mind from original dress
So yup, I did it. Bought a dress and then decided after a few days I hated it, so off I went to search for one that made me feel like a bride (instead of going to prom 😅), and I found it. The first...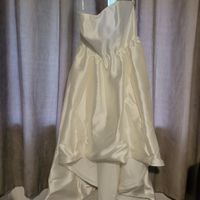 3