Wedding fashion
Join group
Wearing a white dress with a beautiful design and everyone is telling you how gorgeous you look… aren't you happy? :) While you're waiting for this big moment to arrive, you can talk about dresses, suits, accessories, and other things, here..

Discussions
Second guessing my choice.... opinions needed!
Below is me in the dress and a stock photo of the same dress (I'm having the strap removed) I can't stop wondering if the bottom of the dress is too odd looking. Is it just because it hasn't been...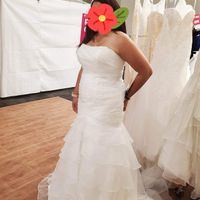 2