You're going to look absolutely spectacular on your wedding day, and that's why we provide you with a range of tricks and tips you might need: beauty treatments, wedding makeup, hairstyles, the latest trends, etc...

Discussions

Best way to secure a headpiece?
Aubrey
, On January 11, 2023 at 22:44
I had my wedding hair trial recently and we had some trouble securing my headpiece to my half up half down hairstyle. The headpiece wouldn't stay put with bobby pins at the ends. The headpiece is...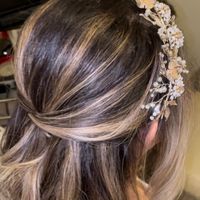 3