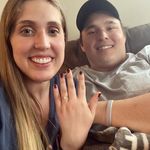 Megan
St Jacobs, Ontario · From April 2021
Engaged to my partner of 6+ years, Darren April 17th, 2021! Getting married July 22nd, 2023.
🕐 WEDDING COUNTDOWN...
July 22, 2023
Where do i start?
Kathryn
, On November 15, 2021 at 14:18
Hi I got engaged in September of this year and I am slowly starting to plan little things here and there and get new ideas. We are getting married in 2023 but don't have an official date yet. I am...