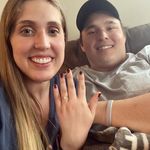 Megan
St Jacobs, Ontario · From April 2021
Engaged to my partner of 6+ years, Darren April 17th, 2021! Getting married July 22nd, 2023.
🕐 WEDDING COUNTDOWN...
July 22, 2023

Choosing a Dj
Anything in particular to look for when hiring a DJ? I'm really torn between two DJs. One is slightly more expensive but not enough to be crazy concerned about. Both have all 5 star reviews. Anything...