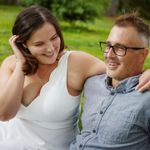 Frequent user
September 2022 Ontario
First dance - before or after food?
So I'm working on my wedding timeline and my mom and I are disagreeing on this so I'd love some additional input - I want the first dance before the food (with father/daughter and mother/son dances afterwards) so that it spotlights us and I won't feel bloated during my first dance, my mom says that no one does it that way and people want to get right to eating and won't enjoy watching us dance since it will delay dinner. Are you doing your first dance before or after dinner? If you are already married, do you have any regrets about when you had your first dance?
Latest activity by Danielle, on May 13, 2022 at 05:12
Featured

October 2022 Alberta

Still trying to figure this one out myself - we are having a bit of a later day in general, and I know I hate when I need to wait to eat but were still trying to decide if we have a dance at all lol

BUT - I have seen it done both ways.

The time I saw it done PRIOR to dinner, it kinda worked perfectly with their venue - their dance floor was in a separate space than where we ate, but we had to walk through the dancefloor to get to the dining area, so we waited there - bride and groom entered, did their dance and then we went and ate. I dont think they did any family dances so also worked out for them.

When it was done after - it was done a while after the dinner - so I can't say how the bride felt but I feel like it was a decent amount of time for her food to settle. We kinda did all the speeches and stuff first then they danced.
Groups
WeddingWire Article Topics