Post content has been hidden
To unblock this content, please click here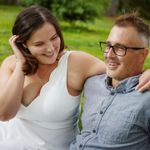 Frequent user
September 2022 Ontario
First dance - before or after food?
So I'm working on my wedding timeline and my mom and I are disagreeing on this so I'd love some additional input - I want the first dance before the food (with father/daughter and mother/son dances afterwards) so that it spotlights us and I won't feel bloated during my first dance, my mom says that no one does it that way and people want to get right to eating and won't enjoy watching us dance since it will delay dinner. Are you doing your first dance before or after dinner? If you are already married, do you have any regrets about when you had your first dance?
Latest activity by Megan, on July 6, 2022 at 02:14
Frequent user

July 2023 Ontario

I've seen people do their entrance with their wedding party and then go right into their first dance! I think if that's your preference then go for it. An extra 3-4 minutes isn't going to kill anybody to wait for food.

Featured

September 2023 Ontario

First dance after food, I'm going to be starving and will not want to dance. lol

Newbie

September 2022 Ontario

We're doing ours before dinner and immediately after our entrance (as well as other first dances and some of the speeches)

Featured

May 2023 Ontario

We are going straight into the first dance after the introduction. We have a cocktail hour prior so dont think anyone is going to starve. They will appreciate the small break in between the dinner cause they have no idea whats to come 😊

Devoted

September 2022 Alberta

We are doing ours after dinner. Dinner is starting around 6-6:30 so we expect to allow about 2 hours for that, and then have the first dance at 8 and then open the dance floor. We actually are planning to have a smooth transition from our first dance ('I Don't Want to Miss A Thing' from 1998's 'Armageddon') into a song that will get the dance floor open and 'get this party started' (we are using Dan Davidson's 'Found' for this one).

Frequent user

April 2022 Ontario

Newly married April 29th - We headed to the dance floor straight from our entrance and did our first dance. My wedding coordinator actually recommended it before I ate and felt full - It also worked out so that we still had beautiful, natural light for photos (I'm not a big fan of flash photography)! I'm really happy we did it that way - It was perfect timing.

We are doing ours right after our entrances, and a speech. We are doing our 1st dance and then father/daughter dance. followed by supper

Newbie

September 2022 Ontario

You are totally right. When we planned my friends wedding they came right in and did the first dance and the cake cutting. It flows well. The elderly relatives love to see that stuff, and will often already be eyeing the door by the time dessert rolls around, so they appreciate it when it's earlier in the event too.

Featured

October 2023 Ontario

We are planning a "special dance" so we will transition right from our grand entrance into our first dance-I agree it makes with others that feel it makes the most sense.


Frequent user

June 2022 Ontario

Curious

October 2022 Ontario

Hi Jenny,

A wedding that my fiance and I went to a couple months back, the Bride and Groom did a transition right from their grand entrance into their first dance song, and that is what we're going to do as well. Seeing that from a guests' perspective, it definitely made sense because dinner opens the table for your guests to converse with one another, meanwhile, if you do your dance beforehand, it allows for all the attention to be on you

Frequent user

February 2024 Ontario

View quoted message

That's a really good point, never thought about it like that. I want it after our entrance anyways, but thanks for sharing that

Featured

September 2021 Ontario

I can almost guarantee you that if you have your dance while guests are seated and there's something on the table for them to eat or drink, almost no one will pay any attention to you. They'll likely be stuffing their mouths or chatting with one another. That might be fine if you're the shy type and don't want the attention but personally, I would find it incredibly awkward to be dancing in the middle of the floor while everyone is ignoring you. And the pictures/video will be weird if you see people eating/talking in the background while you dance. But that's just me though.

Newbie

November 2024 Alberta

We kind of have to do dinner before the dance because we are doing the ceremony at around 4 or 4:30 as my dad has to eat fairly early. I guess we could try to squeeze our first dance in as we weren't planning a long ceremony but I hired a harpist for it and the first hour of the reception and that would make it awkward for her I think. I thought it would make it a little easier if we did the ceremony, let her take a break and everyone eats and then did the dances. We are doing the traditional father/daughter, mother/son dances and breaking out to everyone else. I really think it would flow better too if we didn't break that up.

Frequent user

September 2022 Ontario

View quoted message

I was totally going to skip the garter toss too but my fiancé said he wants to do it 😂 I'm feeling a lot more confident with my decision to do the dance before eating now that I've got all the feedback from here.

Expert

October 2022 Alberta

Still trying to figure this one out myself - we are having a bit of a later day in general, and I know I hate when I need to wait to eat but were still trying to decide if we have a dance at all lol

BUT - I have seen it done both ways.

The time I saw it done PRIOR to dinner, it kinda worked perfectly with their venue - their dance floor was in a separate space than where we ate, but we had to walk through the dancefloor to get to the dining area, so we waited there - bride and groom entered, did their dance and then we went and ate. I dont think they did any family dances so also worked out for them.

When it was done after - it was done a while after the dinner - so I can't say how the bride felt but I feel like it was a decent amount of time for her food to settle. We kinda did all the speeches and stuff first then they danced.

Featured

August 2023 Alberta

I am doing the first dance before dinner! I personally find it flows better. Especially for our venue.

Our venue coordinator suggested we do before dinner when we do our grand entrance. When she told us and I had the chance to think about it, to me it seems a lot better of a timeline. She also said that every wedding she has done, most of them follow what she says and they ended up loving the idea.

Newbie

October 2022 Ontario

We will be having ours before the first course. We have a cocktail hour where hors d'oeuvres will be served so guests will be fine. The dance is less than 5 minutes. When I attend a wedding, I have a little snack before I leave my house, and I keep a small granola bar in my purse just in case. If you want the attention on you and your partner, go for the dance before the food. Who cares if "that's not how it's done", I am forgoing the whole garter thing because I think it's super creepy. Just because something was done for a long time does not make it the correct way.

Expert

June 2022 British Columbia

We were originally aiming to do it after dinner for ours!

Frequent user

February 2024 Ontario

View quoted message

I agree with this

View quoted message

Sounds like a good plan

Featured

May 2022 Alberta

View quoted message

We are going to pick a party song that all the bridal party will dance to, to start the party after dinner and formalities!

I'm torn now. I had thought after dinner to start the party. We aren't doing any mother/father dances so it's just ours. We have to make a decision soon though.

Featured

August 2022 British Columbia

We are having our first dance after dinner

Super

December 2020 Ontario

We also did it with our entrance after cocktail hour. If you have food between the ceremony and reception, people want a food break!! Also it's like 5 minutes so no one will starve haha. This seems to be the most common timing for the first dance.

Newbie

April 2022 Ontario

We are doing our first dance before dinner just after the grand entrance. Then parents dances after dinner. We are having cocktail hour after the ceremony so that will give people a chance to get something small to eat.

Curious

June 2023 Ontario

We're having a cocktail hour and we are doing our first dance before dinner. All other dances will be done afterwards

Featured

May 2022 Alberta

We are doing ours before dinner! Guests will have food during cocktail hour (at our wedding) so waiting another 10-15 mins while we have our first dance shouldn't be a big deal. Our plan is basically walk in the reception and go right into our first dance then start dinner service! I saw multiple wedding planners reccomend this on Pintrest and I like the flow of it.
Groups
WeddingWire Article Topics