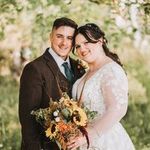 Michelle
Halifax, Nova Scotia · From May 2018
Married and still planning a wedding! My partner and I are high school sweethearts, and while we've postponed our big wedding plans due to covid-19 we... View more
Married and still planning a wedding! My partner and I are high school sweethearts, and while we've postponed our big wedding plans due to covid-19 we still got married on our original date in a small legal ceremony with a few friends and our parents.
Happily married 🎉
October 8, 2021

Sweets table
Amanda
, On November 25, 2021 at 12:19
Hi everyone! What would you include on a sweets table and how much of everything ?? We have 110 people and I don't really want to waste anything. We're doing a small cake for photo ops and such, but...