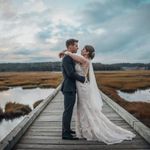 Amelia
'Saint John', New Brunswick · From August 2019
My fiance Taylor and I have been together for eleven years! We got married in a small intimate ceremony at the beach on October 2, 2020. If you feel stuck... View more
My fiance Taylor and I have been together for eleven years! We got married in a small intimate ceremony at the beach on October 2, 2020. If you feel stuck with planning feel free to send me a message. As one of WWs featured users I'd love to help! Being a covid bride (or groom) isn't easy, but there are a whole lot of us if you need advice or someone to talk to.
Happily married 🎉
October 2, 2020

Should i get this dress?!
So I went to a small boutique shop in my MOH's town and tried on a few dresses with her. When this shop opened 10 years ago about 60% of their business was wedding dresses but I guess now that the...



4