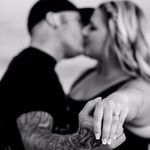 Natasha
London, Ontario · From July 2016
Mom to a handsome 9 year old boy, and soon to be wife to an amazing man ! I couldnt have picked a better man to become my husband/ partner and amazing... View more
Mom to a handsome 9 year old boy, and soon to be wife to an amazing man ! I couldnt have picked a better man to become my husband/ partner and amazing step dad for my son :) I feel so blessed.
Happily married 🎉
August 12, 2017

Parents gifts ..... ideas
Hello Ladies ..... my Fh asked me the other night what we are getting our parents as gifts for the wedding ... and I stop and said oh crap... I hadent thought of that yet ... I have absoloutley no...


7