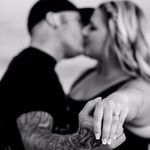 Natasha
London, Ontario · From July 2016
Mom to a handsome 9 year old boy, and soon to be wife to an amazing man ! I couldnt have picked a better man to become my husband/ partner and amazing... View more
Mom to a handsome 9 year old boy, and soon to be wife to an amazing man ! I couldnt have picked a better man to become my husband/ partner and amazing step dad for my son :) I feel so blessed.
Happily married 🎉
August 12, 2017

Waxing
Leah
, On March 4, 2017 at 11:42
I am planning on waxing my armpits before my wedding which is in 41 days! I've never done it before so I am going on March 15th to get it done and then I can see how soon before the wedding to do it....