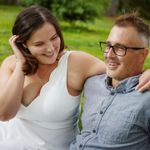 Jenny
Ottawa, Ontario · From July 2020
Hi, I'm Jenny. I'm a 26 mom to two girls (ages 3 and 1 but they'll be 4 and 2 for the wedding!). Excited to get married to the love of my life next year!... View more
Hi, I'm Jenny. I'm a 26 mom to two girls (ages 3 and 1 but they'll be 4 and 2 for the wedding!). Excited to get married to the love of my life next year! We'll have been together 5 years this October.
Happily married 🎉
September 25, 2022

How do you wear your rings?
I've been wearing my rings with my wedding band on top of my engagement ring (so engagement ring closest to my hand, wedding band closest to my knuckle). My mom says that's not how they're supposed to...