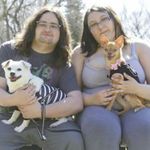 Taylor
'Edmonton', Alberta · From June 2019
Me and my partner have 2 service dogs ( one for each of us ) and love to explore lifes adventures together. We are both quiet and simple people. He is... View more
Me and my partner have 2 service dogs ( one for each of us ) and love to explore lifes adventures together. We are both quiet and simple people. He is extremely geeky and likes to keep to himself while I am overly curious and very sentimental when it comes to everything I do.
Happily married 🎉
October 10, 2021
Tell me about your A-typical or Alternative Wedding
GCMcGEE
, On April 12, 2020 at 03:04
I need some ideas! We're having a very hard time so far with picking a venue! One major problem we're having is neither of us really enjoy traditional weddings and so we're exploring some alternative...