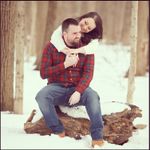 Expert
October 2022 Ontario
Aug wedding
Anyone else having an August wedding? I know it's months away and hopefully by then we'll have everything under control but is anyone worried? I was very chill till now but seeing everything shut down it's making me worried 😢
Latest activity by Taylor, on April 5, 2020 at 15:21
Devoted

October 2021 Alberta

October and I'm feeling the same way. Sucks big time. I had a breakdown yesterday and I'm still really stressed about it. I read 1 news article and that was enough for me. I'm more worried about vendors/venues then anything else because I know nothing will stop my family from coming. I truly feel that being stuck inside isnt helping

Frequent user

April 2022 Ontario

We recently postponed our May wedding to August because of the current situation. I agree with some of the other replies that I don't think it's going to last that long, the projections currently are saying June/July so just keeping optimistic for August 😊

View quoted message

That's insane... not a very accommodating venue I just postponed our June 13th wedding to July 2021 with no penalty. Everything is just moving forward. I'm really sorry to hear that you will be losing money This breaks my heart for all couples.

Lisa

Newbie

August 2021 Quebec

View quoted message

I just spoke to my reception venue and they are going forward with all their events May and onwards - unless the gov decides to continue with these restrictions. So I was told I could cancel or postpone but pay up to $4000 in fees because I'm breaking my contract. How lovely and assuring.

Our date is August 29th and we're having our ceremony at Toronto City Hall. I am waiting to hear back from them whether or not our booking has been cancelled or suspended... I'm so hesitant on booking any rentals for our outdoor reception! I'm scared this won't be over and I will lose the 40% NON-REFUNDABLE deposit they are asking for ... I haven't sent out the invites yet and I am pretty much at a stand still on stuff to do!


Newbie

August 2021 Quebec

Mine is August 29th. Kind of worried. People keep saying things will be better by June and that august is far away enough to not be so worried...can't help it though. We have lots of out of town family members and guests, that's the main concern...

Expert

October 2022 Ontario

View quoted message

So true

Devoted

May 2021 British Columbia

I am August 22nd and am not panicking anymore, I did for the first while then I stopped reading about it on Social Media because all the info is not reliable. It is still just under 5 months away and believe there is a very high chance that all will be good to go again! Haven't heard any bad news from my vendors/venue so that is a good sign! Try not to worry to much! day by day! xx

Frequent user

August 2021 Ontario

I'm quite worried, but trying not to be. I'm still get my final quotes, but will not be putting any more downpayments on anything. It's a strange world we are in right now and we have no way of knowing what will be happening. We could see things get better then another wave and because of this I'm doing a plan B - keep my officiant and still get married that day, doing it virtually with everyone then when life is more normal have a party with everyone and use my caterer/hall deposits for then Best of luck, breathe deep and stay healthy.




I am in aug. we arent postponing i think in another month we will have this under control. theres no way we can last like this with the world shut down for another 5 months.... dont worry!!

Frequent user

May 2021 Alberta

Our wedding is July 31, 2020. We aren't super worried but it has been on our minds quite a bit. I am saying we need to give it a few more weeks before we make any decisions. We aren't planning a large wedding, under 70 already, but are for sure thinking of ways to cut it down if we needed to so we don't have to postpone or cancel. To be honest, I have actually purposely stayed off Wedding Wire for the past couple of weeks so that I didn't panic but I am glad I decided to hop back on today. My heart goes out to everyone having to cancel.

Curious

August 2020 Ontario

Our Wedding is August 22 2020 so will be waiting things out and seeing how things go the next couple months. Absolutely Terrible to hear what others are going through. I couldn't imagine changing our special day we have been planning it the last 2.5 years. It would be devastating. Thinking about all you as you make these changes ❤️ much love

Devoted

August 2020 Saskatchewan

View quoted message

Honestly the media is what is making it worse because right now they have nothing else to talk about. I'm limiting what I read and it's been helping calm my nerves

Expert

October 2022 Ontario

View quoted message

Here to hoping

. Thanks girl. I Wasn't that worried but with push of social media I started feeling anxiety.

Devoted

August 2020 Saskatchewan

Our wedding is also in August. I was worried a couple weeks ago because no one really knew what was going to happen and what to expect. However, China has been dealing with the virus for two months and they are currently in recovery. It made me hopeful because we were expecting it as a country, we took drastic precautions early, and we are almost a month in. I'm optimistic that with the closures and everyone pushing to stay home to self isolate that we will be in recovery come May.

Expert

October 2022 Ontario

View quoted message

yeah definitely don't make any decisions as it's still a bit early for that

Curious

July 2020 Alberta

July 10. I'm a little worried but I don't want to make any final decisions yet. Our food tasting was supposed to be this week but it was cancelled!

It's so scary not knowing though




Expert

October 2022 Ontario

View quoted message

I'm so sorry you're going through this

Devoted

August 2020 Saskatchewan

Yup, over here, I've been panicking. It never really occurred to me until last night and talking to my fiance about a backup plan and still getting legally married is depressing. When we first got engaged, I wanted to elope and now that we might, I miss all of the big wedding stuff that we might not have anymore. But everyone is right, it is good to not worry about it because we cannot control it. We are taking lots of preventative measures so we will most likely be fine by august

Beginner

August 2020 New Brunswick

We're in August and also worried.. Also trying to stay calm and hope it blows over but there's now talks my fiancé could lose his job over this. With me being a stay at home mom, we may end up having to cancel it due to finances even if the virus blows over. Let alone afford to live the rest of our life 🤦🏻‍♀️ What was supposed to be the happiest time makes me just want to throw in the towel at this point.

Devoted

October 2020 Ontario

I am getting married in September. My bridal shower is May 10, and my bachelorette I end of June. The future hubby's bachelor party is mid July. I really hope all is said and done by then. I am starting to worry that I might have to reschedule or cancel my bridal shower... Hoping for the best.


Expert

October 2022 Ontario

View quoted message

Fingers crossed it will be under control in a few weeks.

Hubby's bachelor party and my bridal party is June and my bachelorette is July. Fingers crossed m. So much can happen in that amount of time

Frequent user

August 2020 Ontario

Yes. My bridal shower is scheduled for the end of April and our wedding for the middle of August. My fiance is telling me not to worry and I haven't recieved anything from our vendors or venue...keeping my fingers crossed that all will be well soon.

Expert

October 2022 Ontario

View quoted message

That's very fair

Master

October 2020 New Brunswick

Try not to let it worry you yet. Hopefully in a few weeks the containment efforts will have helped and life can start to return to normal.


Our wedding is in October and my fiance and I sat down and picked a date when I am allowed to worry (in July when our invites will need to go out) so that if there are still serious restrictions at that time then I am allowed to worry. Until then it's out of our hands.
You're not alone, a lot of brides and grooms are worried. We have all waited for our big days and planned and spent a lot of money on our dream weddings. If the time comes and you need help or advice let us know!
Groups
WeddingWire Article Topics