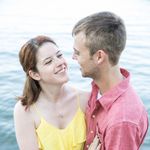 Ellen
St Catharines, Ontario · From September 2017
I am currently a student going for my second degree, working full time and planning a wedding. My fiance and I have been together since the end of high... View more
I am currently a student going for my second degree, working full time and planning a wedding. My fiance and I have been together since the end of high school; our family consists of our adorably crazy cat O'Malley and us.
Happily married 🎉
October 19, 2019

Getting to the Wedding!
Ellen
, On October 7, 2018 at 21:16
Hi Everyone!! We are currently struggling with some transportation issues. My FH will be getting ready at his parent's house and I will be getting ready at my parent's house. We are planning on having...