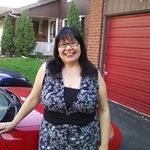 Sonja
Ajax, Ontario · From March 2017
This is not my first time around. I'm probably the oldest bride on this site (just turned 58). My fiancé and I will be getting married on September 24,... View more
This is not my first time around. I'm probably the oldest bride on this site (just turned 58). My fiancé and I will be getting married on September 24, 2017 at the Deer Creek Golf Club. It's a small wedding with only 31 in attendance. After 6 years of getting to know each other and each going through some real financial and health difficulties, we've decided that we are stronger together than we are as individuals.
Happily married 🎉
September 24, 2017

Help on diy party favours
Renee
, On June 5, 2019 at 14:56
I am in need of some ideas for an affordable wedding favour, I was thinking of doing like tick tack mints with a personalized sticker on it I am so confused and lost I just want something that...