The Five Love Languages book is a longtime favorite for relationships and pre-marital counseling. Have you read the book or figured out your love language? If so...
What is your love language? What is your fiance(e)'s love language?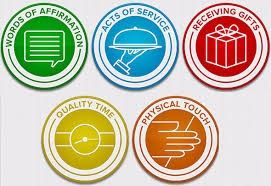 Words of Affirmation
Are you building each other up? If your love language is words of affirmation, verbal compliments are very important to you! Words hold real value, and it's important for you to hear verbal reminders of how much your partner loves and values you. While actions speak louder than words, if your partner's primary love language is words of affirmation - make sure you are verbally saying thank you, I love you, and voicing your appreciation.
Quality Time
To be clear - quality time does not include sitting on the couch together watching TV!

This means giving your partner your undivided attention. If your primary love language is quality time it means that you value simply spending time together - going on a walk, participating in an activity or going out to eat together (but not looking at your phone the whole time).
Receiving Gifts
Who doesn't love gifts? If your primary love language is receiving gifts, it means that you place a really high value on tangible reminders of your love. It does not mean that you love expensive or frequent gifts - but that you value physical symbols that say "Look, he was thinking of me" or "She remembered me".
Acts of Service
Do you best express your love by doing little things to help serve your fiance(e)? If your love language is acts of service, then it's all about those little actions that show you care! Emptying the dishwasher, taking the car in, running an errand to make your fiance's day easier, taking over cooking duty for the night - these are all ways that you can treat your partner each day by taking care of them and taking some of the work off their shoulders to show that you are thinking of them. This love language is definitely for those who believe that 'actions speak louder than words'.
Physical Touch
This one is pretty obvious

, but it also includes all cuddling, hugs, holding hands, and all those light touches! Physical touch can be a very powerful way to communicate love.
What is your love language?