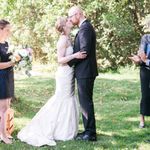 Melinda
Almonte, Ontario · From October 2016
I was never one of those girls that planned their wedding from a young age but now that I'm doing it, I'm enjoying the process! My fiance and I have been... View more
I was never one of those girls that planned their wedding from a young age but now that I'm doing it, I'm enjoying the process! My fiance and I have been together almost four years. We love the outdoors, camping, skiing, cooking and eating lots of food. We have 2 cats and a dog that we adore.
Happily married 🎉
September 17, 2017
No rehearsal?
Jodi
, On February 27, 2018 at 17:19
Has anyone not had a rehearsal dinner? our wedding is out of town my MOH will have a newborn and my sister and dad works shiftwork. maybe something in the backyard? did you just wing it? did you have...