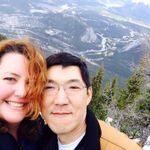 Laura
Calgary, Alberta · From January 2016
Hi all! I am finance professional and I met my FH and soulmate through an online dating service. We discovered after meeting for in public for coffee and... View more
Hi all! I am finance professional and I met my FH and soulmate through an online dating service. We discovered after meeting for in public for coffee and each deciding that the other was "safe" that we lived less than 2 blocks from each other. Life does indeed work in strange ways!
Happily married 🎉
September 9, 2017
Ceremony songs
Terri
, On September 28, 2017 at 02:43
Hey guys so I have not been to many weddings to be able to distinguish what I want. I am looking for advice for what is normal or not for songs during the ceremony. How many should I typically arrange...