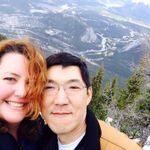 Laura
Calgary, Alberta · From January 2016
Hi all! I am finance professional and I met my FH and soulmate through an online dating service. We discovered after meeting for in public for coffee and... View more
Hi all! I am finance professional and I met my FH and soulmate through an online dating service. We discovered after meeting for in public for coffee and each deciding that the other was "safe" that we lived less than 2 blocks from each other. Life does indeed work in strange ways!
Happily married 🎉
September 9, 2017

Do i need a wedding cake or cupcakes?
I am trying to decide if I need to have a cake for cutting and cupcakes or if I should just have a cutting cake or if I should skip the whole thing altogether. I am so indecisive. To give some...