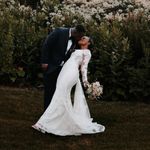 Maggnard-Smanta
Montreal, Quebec · From January 2021
He proposed on December 19th and I said yes! We are blessed and excited for this new chapter in our lives.
🕐 WEDDING COUNTDOWN...
July 15, 2022
Outdoor wedding planning
Angel
, On June 30, 2022 at 12:23
Is anyone else planning an outdoor wedding completely stressed out about the potential for bad weather? I'm planning a wedding for early October 2023 and have chosen an outdoor ceremony in a park...