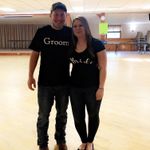 Becky
Desboro, Ontario · From February 2018
You may have noticed the star beside my photo, this means I am here to help with any struggles, advice needed, someone to tell your successes too! I am a... View more
You may have noticed the star beside my photo, this means I am here to help with any struggles, advice needed, someone to tell your successes too! I am a bride to be and here to help :) We are all having similar experiences and could use someone to talk to! If you every want someone to vent to, give me a message and we can talk.
Happily married 🎉
September 14, 2019

Average cost for a wedding cake?
I have been pricing out wedding cakes and wondering what the average cost is to everyone? Some people charge by the cake and then depending on design, some people charge per slice of cake, some people...