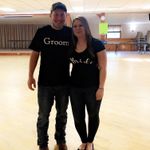 Becky
Desboro, Ontario · From February 2018
You may have noticed the star beside my photo, this means I am here to help with any struggles, advice needed, someone to tell your successes too! I am a... View more
You may have noticed the star beside my photo, this means I am here to help with any struggles, advice needed, someone to tell your successes too! I am a bride to be and here to help :) We are all having similar experiences and could use someone to talk to! If you every want someone to vent to, give me a message and we can talk.
Happily married 🎉
September 14, 2019

Poll: Table numbers or table names?
👰 Poll
Table names are a great way to add some fun and personality to your wedding day, however, table numbers can be a lot more straightforward. Especially if you have a large wedding with lots of tables!...