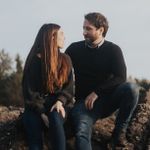 Laura
Toronto, Ontario · From November 2019
Joel got down on one knee November 23, 2019 in Toronto after an amazing night, including dinner at the top of the CN Tower. We can't wait for this next... View more
Joel got down on one knee November 23, 2019 in Toronto after an amazing night, including dinner at the top of the CN Tower. We can't wait for this next part of our lives!
🕐 WEDDING COUNTDOWN...
June 25, 2022

Covid Restrictions .. here we go again
Alyx
, On December 22, 2021 at 01:08
Well here we go.. Alberta and BC restrictions are put in place. I live in BC and my venue is in Alberta. I have to say I was preparing for this and unfortunately I'm not surprised… my wedding is...