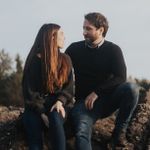 Laura
Toronto, Ontario · From November 2019
Joel got down on one knee November 23, 2019 in Toronto after an amazing night, including dinner at the top of the CN Tower. We can't wait for this next... View more
Joel got down on one knee November 23, 2019 in Toronto after an amazing night, including dinner at the top of the CN Tower. We can't wait for this next part of our lives!
Happily married 🎉
June 25, 2022
Wedding favours that don't suck
Hi all, I'd love to hear your wedding favour ideas or what you actually chose. I do not want anything that will just get tossed in the garbage or in the back of the cupboard. I was thinking something...