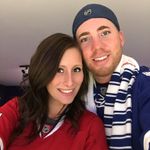 Sydney
Bowmanville, Ontario · From February 2017
26 years old. Bartender. Looking forward to marrying the man of my dreams.
Happily married 🎉
August 25, 2018
What are your bridesmaids wearing?
Lynnie
, On November 27, 2018 at 14:40
What's your plan for bridesmaids attire? Will they all wear the same dress, or different colours and styles? Are they wearing... A) The same dress? Photo by Zahra Zaman Photography in Halifax, NS B)...