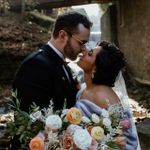 Judice
Burlington, Ontario · From January 2019
Personal Trainer that has been dreaming of her dream wedding since she was a little girl. In love with everything glam and fun.
Happily married 🎉
November 24, 2019

Officially married!
Alison
, On November 26, 2019 at 00:09
I officially married my best friend on November 16! My wedding day was perfect, I couldn't have dreamed about anything going any better! The food was delicious and the venue was beautiful! We just got...




7