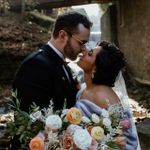 Judice
Burlington, Ontario · From January 2019
Personal Trainer that has been dreaming of her dream wedding since she was a little girl. In love with everything glam and fun.
Happily married 🎉
November 24, 2019
Jewelry For the Big Day!
I need some solid advice here on what type of jewelry I should wear for the big day, because right now I have no idea and we have 60 days to go. YIKES. I want to keep the budget pretty low since it's...