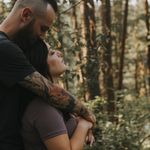 Jennifer
Golden, British Columbia · From April 2017
Hello! I am a 30 year old from Calgary AB. My FH & I have been together for 12 years & are very excited for our new adventure together as husband & wife!
Happily married 🎉
September 1, 2018

What to wear for engagement pictures?
Holly
, On August 28, 2018 at 11:24
Hey all, I'm getting my engagement pictures done this fall and was wondering what everyone wore? Pictures would be super appreciated! Thanks soo much!!