Sam
'London', Ontario · From July 2019
🕐 WEDDING COUNTDOWN...
December 31, 2022
Mint decor help!!
Stefanie
, On September 30, 2020 at 13:21
Ok so this is our centerpiece. Our colours are supposed to be mint, rose gold and light peach (which I don't know if that falls close to blush too due to the rose gold and peach pallet wise).. I am...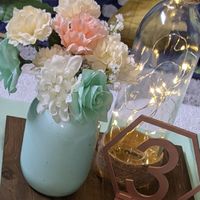 3