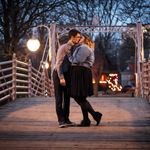 Kathleen
London, Ontario · From July 2017
I am 24 years old, from Bluevale, Ontario residing in New Hamburg, Ontario. I'm lucky enough to be marrying my high school sweetheart who is loving, kind... View more
I am 24 years old, from Bluevale, Ontario residing in New Hamburg, Ontario. I'm lucky enough to be marrying my high school sweetheart who is loving, kind and supportive. When we get married, we'll be just shy of 9 years together!
Happily married 🎉
October 12, 2019
Style Showdown: Silver or Gold?
Lynnie
, On December 10, 2018 at 09:05
From your rings to the decor - which metal do you love more? Silver or gold? Silver? Photo by Krista Fox Photography Or Gold? Photo by Aaron and Jillian Photography Next Question: Over-the-Top or...