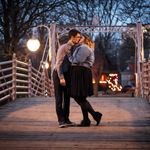 Kathleen
London, Ontario · From July 2017
I am 24 years old, from Bluevale, Ontario residing in New Hamburg, Ontario. I'm lucky enough to be marrying my high school sweetheart who is loving, kind... View more
I am 24 years old, from Bluevale, Ontario residing in New Hamburg, Ontario. I'm lucky enough to be marrying my high school sweetheart who is loving, kind and supportive. When we get married, we'll be just shy of 9 years together!
Happily married 🎉
October 12, 2019

Facebook Groups Are Savage
Is anyone else a part of Facebook buy and sell groups for brides? I'm in an Ontario wide group, and despite messaging about a product first (and telling the seller that I'd like to buy it), other...