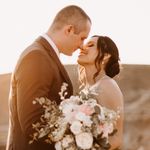 Liberty
Online
'Medicine Hat', Alberta · From December 2020
My Fiancé and I met in May of 2017, we got engaged in December 2020 and will be getting married in May 2022!
Happily married 🎉
May 22, 2022
Affordable and practical bridesmaid dresses?
Joy
, On March 18, 2023 at 23:26
I'm looking at what places sell bridesmaid dresses in my area, and so far all I've seen are David's Bridal, and Sorella Vita for brands. I was looking at a few online too, but they're often really...