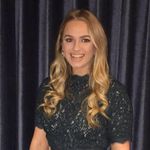 Sinéad
Galway, Galway · From February 2019
Hi, I'm Sinéad. I'm one of the Community Managers. I'm here to help you with any wedding or WeddingWire questions! I can't wait to learn more about you... View more
Hi, I'm Sinéad. I'm one of the Community Managers. I'm here to help you with any wedding or WeddingWire questions! I can't wait to learn more about you and your wedding!
When did you move in together?
What a big and exciting step! When did you and your future spouse decide that it was time to live together? Was it an easy decision? When did you guys move in together? Next Question: When did you get...