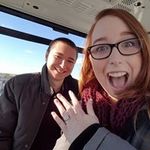 Brittany
Guelph, Ontario · From October 2016
I am 22 years old. I am currently in school and I will graduate in April 2017. I've been planning my wedding since I was 12 and I cannot wait to spend the... View more
I am 22 years old. I am currently in school and I will graduate in April 2017. I've been planning my wedding since I was 12 and I cannot wait to spend the rest of my life with my fiancee. We have a young puppy named Tallulah and a 1 year old crested gecko named Pekoe - he is orange and we love tea.
Happily married 🎉
October 14, 2017
It shouldn't have come to this.
In a previous post, I was urged to set up a gofundme page to support the cost of our wedding after an unexpected motor vehicle accident left me unable to work full time. My injuries have gotten worse,...