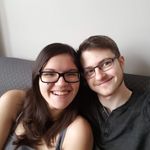 Monique
Elbow, Saskatchewan · From January 2018
We're HS sweethearts who love Harry Potter, books, art, games and dogs!
Happily married 🎉
August 21, 2020

Not sure about the veil
So I bought tulle from fabric land with the intention of turning it into a veil. Today I've been trying to decide what length of veil I want but when I put the veil near my head, it feels silly. I've...