Wedding fashion
Join group
Wearing a white dress with a beautiful design and everyone is telling you how gorgeous you look… aren't you happy? :) While you're waiting for this big moment to arrive, you can talk about dresses, suits, accessories, and other things, here..

Outfit change during the reception
Hello there, Do you plan on keeping your wedding dress during the whole reception or do an outfit change during the reception? Share your inspirations! I always thought about changing into a jumpsuit...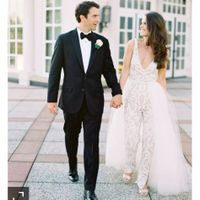 2