Wedding fashion
Join group
Wearing a white dress with a beautiful design and everyone is telling you how gorgeous you look… aren't you happy? :) While you're waiting for this big moment to arrive, you can talk about dresses, suits, accessories, and other things, here..

Brides of 2023! Does Your Dress Have a Train?!
Amanda
, On September 18, 2022 at 20:55
Hello ladies!! The year 2023 is just a few short months away! Does your wedding dress have a train?! Is it short and dance-floor friendly?! Long and dramatic?! Or does your dress not have a train at...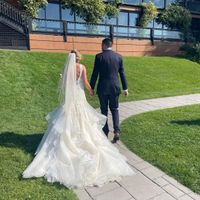 2