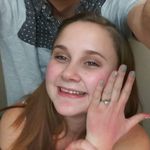 Lussierk00@outlook.com
Winnipeg, Manitoba · From September 2018
I am a fun loving girl who never imagined falling in love and wanting to get married so young, but here I am! I have a wonderful job working at a... View more
I am a fun loving girl who never imagined falling in love and wanting to get married so young, but here I am! I have a wonderful job working at a preschool and having been really enjoying all the wedding planning I've been getting myself into.
Happily married 🎉
January 11, 2020

How many no shows did you have?
Marley
, On January 13, 2020 at 00:23
I'm just curious as to how many no shows you had at your wedding? I know it's more important to focus on the positive aspects of your day! I know I felt lots of love from the guests who did show up....