Post content has been hidden
To unblock this content, please click here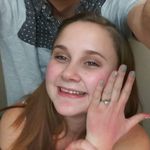 Curious
January 2020 Manitoba
Something old something new?
What is everyone doing for their something old something new something borrowed and something blue? Or are you not doing it at all? Basically all I have so far are lots of something news lol. I'm curious to see what other people are using and maybe get some ideas.
Latest activity by Rayanne, on July 9, 2019 at 14:52
My best friends will take care of all those requirements for me. At each of my best friends weddings we have taken one item I had blue (the year I went to Europe) and bought my friend a blue ankle bracelet. Her cousin did the something borrowed. I love that my girls will be doing this for me as well.

Curious

September 2019 Alberta

Old: antique hair comb I found in an antique store
New: Dress
Borrowed: My friend from work gave me the jewelry she wore on her wedding day 💕
Blue: garter (haven't bought yet lol)

Frequent user

July 2019 Nova Scotia

Old: Shoes
New: Dress
Borrowed/Blue: Borrowing an old pair of blue stone studs from my sister that our grandfather purchased when we were kids to put in my bouquet.

Frequent user

May 2022 Ontario

My something old will be a pearl necklace and earrings that are my moms, which I guess could also be my something borrowed. But, I was thinking of my something borrowed being a veil that my cousin wore unless I find something else I love. Something new would be my dress, and something blue will be ribbon on my bouquet and the sapphire that is in my ring.

Devoted

October 2021 Alberta

Im not doing it but to knock all 3 out at once maybe borrow a peice of blue jewelery from your grandma

Old and borrowed: the veil my mom and aunt wore
Blue: garter and ribbon on the bouquet (I originally wasn't going to wear a garter but ended up finding one I really liked)
new: dress, shoes, earrings

Frequent user

July 2019 Ontario

Something old: a penny for my shoe (now I'm thinking I should find an old dime after reading the explanation of what a sixpence equivalent to now.)

Something new: my pearl earrings

Something borrowed: my mother's pearl bracelet that she wore when she married my dad

Something blue: my bouquet flowers


Frequent user

October 2023 Ontario

Something new: my dress
Something old: i'm putting a heart pendant around my bouquet that i inherited from my grandma

For something borrowed and something blue.. nothing yet I like the area of putting a blue sticker somewhere - I LOVE stickers!

Expert

August 2019 Saskatchewan

Something old: earrings I got last christmas

something new: my dress

something borrowed: idk yet

something blue: my garter will have a blue bow on it and my earrings for the reception are blue

Beginner

September 2019 Ontario

My something new is my dress.
My something borrowed will be my veil.
I'm combining my something old and blue. I'm going to attach one of my grandfathers medals from when he served in the British Navy to my bouquet. I thought it would be a sweet way to honour his memory since he's no longer with us.


Something new - my dress

something old- a pearl necklace my grandma bought me when I graduated high school (she bought the necklace when I was born)

something borrowed - is both borrowed and the six pence for my shoe

something blue- I am not sure yet




Top

October 2019 Manitoba

Something Old: I was thinking I will wear my Great Aunty Ann's Bracelet charm (but might get an extender so I can wear it on my ankle)

Something New: My dress

Something Borrowed: Not sure about this one yet, maybe something from my Baba or something of my Grandma's

Something Blue: My shoes have some blue sparkle but I was thinking of getting a blue heart sewn in the dress

And a sixpence in her shoe: I bought one off of etsy that is the year 1957 (the year both sets of my grandparents got married)

So far I only have my something new lmao which is my wedding dress and veil.

Curious

July 2022 Alberta

Something old: vintage inspired wedding dress (because I have nothing old)

Something new: rhinestone hair comb

Something borrowed: mother's sandals

Something blue: sapphire earrings and necklace (bought at a garage sale (old), for cheap (new to me))

Also, don't forget the six pence in the left shoe

Current exchange puts the pound at roughly 1.68 Canadian, so six pence (1/100th of a pound) is .10 (a dime, which has the bluenose on it. Incase you don't have anything blue..and if it's old, and borrowed, this would be a win!

"

The old item provided protection for the baby to come. The new item offers optimism to the future. The item borrowed from another happy bride provided good luck. The colour blue was a sign of fidelity.

The sixpence-

a silver British coin-was a symbol of prosperity or

acted as a ward

against evil done by frustrated suitors."

Beginner

June 2019 Quebec

Something new : dress, veil ,earrings

Something old, borrowed and blue: My grandmother made the garter for my godmother over 35 years ago and it was still stunning and fit! It was even more sentimental to have that sort of love (and history) - it was a standard white one with beautiful lace, a lilac trim and a little blue ribbon! It was an honour to wear it .
Dont stress about finding the perfect things, if you get stuck, add a blue sticker on the bottom of your shoe- get creative !

good luck!

Curious

July 2021 Alberta

I have necklace that is old, borrowed, and blue. My something new is my dress

Beginner

August 2019 Alberta

Something old: my engagement ring it's his Grandma's
Something new: my dress
Something borrowed: my Mom's veil - she had a comb put in and her 80s flower crown taken off for me to wear
Something blue: I'm not sure yet.

Super

January 2020 Ontario

Something old: my in-laws Greek crowns
something new: my dress
something borrowed: my mom's pearl necklace
something blue: my shoes

Super

October 2021 Alberta

Something Old: A family stone ring that my late stepdad gave to my mom years ago, planning to tie to my bouquet so I have it while walking down the aisle.

Something New: My shoes! I am in love with Tieks so going to use this as an excuse to get another pair haha. I mean technically the dress as well but I feel like that is a given.

Something Borrowed: My best friend & MoH's veil will be my veil. Obsessed with how beautiful it is.

Something Blue: Tiffany blue earrings my FH got me for my birthday the first year we were together

This is my favourite wedding tradition!

Master

October 2019 Ontario

I have a couple things. I am wearing a necklace that was my moms and my sister wore for her wedding (something old and borrowed). My shoes are my something blue. My dress and earrings will be something new.



Expert

September 2018 British Columbia

My something old was my grandmother's diamond necklace and my something blue was my sister-in-law's sapphire ring (which both covered my something borrowed as well!)

I haven't decided yet! i would love to incorporate something borrowed from my grandmas, but i haven't gotten that far!


I also would love to hear what others think. People are telling me to go for something borrowed as it's more practical.
Groups
WeddingWire Article Topics