Post content has been hidden
To unblock this content, please click here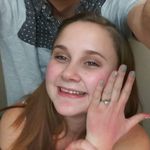 Curious
January 2020 Manitoba
Choosing an mc
Who is everybody choosing as an MC for your reception and why? My fiance and I are wanting two MC's because we think it takes some of the tension off of them and it makes the announcing go smoother. We are just struggling on deciding who those two people should be. Should they be close family/friends that know us quite well, or just anyone who is good at public speaking? I like to think it's a job for a close friend and is basically an extension of the wedding wedding! Love to hear other people's thoughts.
Latest activity by Brittany, on January 3, 2019 at 11:50
British Columbia

Our DJ includes MC services in his package, so aside from maybe a few more intimate things, we're gonna let him do it. Then I can prepare him a list ahead of time, and he knows how to do it Rather than trying to explain it to a groomsman at the rehearsal.

Devoted

June 2019 Ontario

We hired someone who can speak different languages, mainly English, Cantonese and Mandarin, so our guests can understand what's going on lol

Newbie

April 2019 Manitoba

We chose my sister's boyfriend (of almost 10 years). We really wanted to incorporate him in the wedding and he sort of hinted he wanted to be the MC. He is a great public speaker but asked us to write most of his speaking points. Anyone have a template or some witty quips they're using lol


Super

September 2019 Ontario

One of my uncles is usually the MC at our family weddings. I have many to choose from and they'd all be pretty good, so I'm not too worried.

VIP

September 2019 Quebec

Our DJ will also be our MC.

I've seen weddings where the MOH and BM are Co-MC. I've also been a Co-MC at my cousin's bilingual wedding, with her BIL, as they didn't have a wedding party and wanted to keep it intimate.

It really depends on what you're comfortable with. If you don't want to put pressure on family members or your wedding party, then I'd ask your DJ to fill in.

My dad is the joker of the family, so at my cousin's wedding he was running after the mic all night. We had to hide it from him. For this reason, I'm telling the DJ to keep it secure no matter what my dad tells him lol. Last thing I want is for my dad to make a crude joke *eye roll*.

Our DJ is our MC. and possibly my cousins may do a couple of things.

I personally feel its someone that should be close to you, but is also great at public speaking/being fun.

I've been an MC twice. both times it was really really good friends of mine that they wanted me in their wedding but I've been a bridesmaid too many times or they had a bunch of close friends. I loved it.


We did my FH's cousin! She's fantastic at speaking in public! Always got a great attitude! So it was an easy and almost instant choice for us! I would recommend only doing one person, you wouldn't want any confusion and talking over each other. There isn't TOO much for an MC to do at a wedding so keep that in mind too!

Our DJ suggested to us (which I really appreciated) they they will do the reception Wedding Party introductions! Since they have more experience with getting a wedding crowd pumped up and doing introductions they said it would be best to leave that with the professional as it is their job! And that the MC chosen would introduce other things like certain events, speeches, dinner blessing, dinner introduction!

Master

October 2019 Ontario

We've asked a close family friend to MC for us! I think that way it's more personable to the couple when the MC knows them well. Our MC's wife is doing a lot of the decorating and he was almost our photographer but we ended up hiring it out and got him to MC instead.

Expert

April 2019 Alberta

We wanted two people as well, so we asked a couple. They are close family friends of mine who know both of us well.

Top

October 2019 Manitoba

We have chosen my FH's friend who my FH was his MC so we are returning the favour... I've met him only a couple times but I also don't have anybody that I would put forth to fill the role anyway so I don't really care who does the intros and whatnot.

I would just say go with somebody who is comfortable speaking in front of large crowds and if they are close to you and your FH then even better!

We've also asked two people! My uncle and aunt will be our MC's. We choose them because they're both funny and naturally charismatic, and we trust them to do a good job. They're also my Godparents, so it was nice to be able to give them a special role in the wedding!

Master

October 2019 Ontario

My brother is going to be our MC. He is a funny guy and doesn't have a problem speaking in front of people. Especially because it will be mostly family.
I've given him the option to have his girlfriend up there with him if he doesn't want to do it alone

We had my brother. He is a natural public speaker. We also wanted my husband's brother to do it but he said no. We told my brother he could invite someone to join him but he just ended up doing it himself. Most weddings I've been to the MC has been someone close to the couple. I find it's more personable that way. And, they can incorporate the bride and grooms likes into it. My brother didn't tell any embarrassing stories of me, because he knew I don't like the attention, but he did talk about things my husband has said since he knows my husband likes the attention and can laugh about it.

Our DJ is going to MC for us. My FH and him have known each other for years and used to work together.
Groups
WeddingWire Article Topics