Post content has been hidden
To unblock this content, please click here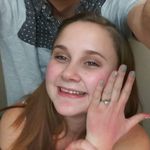 Curious
January 2020 Manitoba
Renting a wedding dress?
Is it just me or does renting a wedding dress sound like a great option? Is it weird that I'm even considering it? I know many brides search for their dream dress, are willing to spend a little more on it, and then keep it forever, but for me, I just can't justify spending all that money on a dress. I know I'm never going to wear it again, so it seems silly to spend that much money on it when my money can go towards something I prioritize more, but will I regret it? I know there's something about owning your dress and it will feel more special that way. Just wondering if anyone else is renting, or if they think it's worth it to buy one. This is coming from a girl who got her prom dress for free lol.
Latest activity by Rachael, on January 15, 2019 at 14:36
Super

October 2019 Ontario

Renting is an option! The main reason I chose not to is because the prices were too high considering the dresses I looked at could be purchased for a few hundred dollars more.


If you're able to rent your ideal dress at a price that is reasonable to you then go for it! But nowadays these are tons of options for wedding dresses for budgets of all kinds so I'd definitely look around first just in case.


Frequent user

June 2019 Manitoba

Renting is totally an option. I would recommend looking in clearance/discount places to buy something innexpensive. I bought mine for $99 at David's bridal and it's gorgeous. I need to alter it and want to add a couple customizations but it'll still be under $500.

Frequent user

August 2020 Ontario

Girllll you don't need to rent these days! Get something for you and feel special in it. You can also get it altered that way. Seriously look at sites like Lulu's and ASOS as they have wedding dress sections now and they are reasonably priced. What I would think is similar to renting?

I personally wouldn't rent a wedding dress, for me I just wouldn't feel like it's my wedding dress, it wouldn't feel as special to me. However I refused so get a dress that was over or near $1000 because that's insane! My dad paid for my dress so I definitely didn't want to abuse that and get something too pricy. I got my dress and a belt, plus tax under $1000!! I'm all for a good deal! So I definitely think renting a dress is an awesome idea for keeping a budget and if you're not someone who views the dress as sentimental then yeah I'd say definitely go for it. It's definitely not for everyone but if it's something you really want then I think that's the perfect dress for you!

Frequent user

September 2019 Ontario

Go for it! I think sometimes the measurements can be off enough that it looks strange, but if you find one you like, rent it! My shoulders are quite narrow and I'm more curvy so I opted for buying one so I could alter it. And once I'm done, I'm going to get it professionally dyed and altered so I can continue to wear it. But I totally get it, dresses are craaazy pricy. Another option, depending on where you live and the kind of wedding you're having, you could find a nice white or ivory dress from another store for under $150. There are even places with prom dresses that come in white and you can pay a lot less for those dresses as well. Just because they don't advertise "BRIDAL" doesn't mean you won't find a gorgeous white dress there.

Super

June 2019 British Columbia

I think it's a great idea, but it is a bit like shopping off the rack- you don't have a lot of options when it comes to alterations or adjustments! As long as you can find one you love though and you're open to different options I think its a great idea!

I don't think renting is a bad idea at all.

i personally couldn't do it, due to how tall I am. i have a hard enough time finding long enough dresses/pants. and i wanted to keep my dress.

check out if there are any consignment bridal shops in your area. you could also get a great dress for affordable.

there are also a few sites where you can buy a used dress like stillwhite.ca


Top

October 2019 Manitoba

I mean, go for it! I wouldn't rent my dress, but if I had found a used one - now that is something I would have bought for sure!

Only reason I think people should keep their dress if it's a family heirloom or they want it to be, they plan on taking it apart to make christening gowns for their future kids, or they are doing what I plan on doing which is wear it on our anniversary's (probably only the big ones like 5, 10, 15, etc.).

Go for it!! Saved money is saved money! I personally bought mine but I plan on taking it with me to the honeymoon for some pictures, and then eventually turn it into a baptism outfit for our children! But renting is 100% such a logical idea!

I don't think there is anything wrong with renting. A lot of people don't keep their dress, and once it's used, it depreciates in value so much! I will keep my dress for now, but not forever. I don't see the point as I wouldn't wear it again. I have teenage daughters, and I still don't think they would use it when they get married, if they get married.

VIP

April 2019 British Columbia

I couldn't do it, but I've heard good things about Rent Frock Repeat.

Since you're into renting, I would also consider looking into a theatre costume store.

Also - I have no idea what dress rental starts at but consider making the rental price your budget and getting your dress online, or second hand for the same price. And consider wearing a non-traditional dress for the same price that will still make a statement.

Also - use google and Pinterest for no traditional dress inspiration.




VIP

November 2019 British Columbia

I'm not renting but only because there isn't really anywhere around here I can rent from! My mum rented hers though and she has no regrets! I would totally rent if I could!!!
Groups
WeddingWire Article Topics