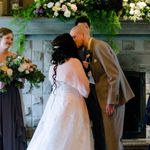 Beginner
May 2019 Alberta
How many no shows did you have?
I'm just curious as to how many no shows you had at your wedding? I know it's more important to focus on the positive aspects of your day! I know I felt lots of love from the guests who did show up. But the head count I gave our venue was 100, including us and our two vendors who would be eating. In the end, we only had 96 people in total (including us and our vendors.) Two couples who said they would be there did not show up! One had an explanation for me, but I never heard from the other one. Some people I went to high school with expressed interest in coming, but I had to tell them we were full! I thought about it later and realized I could have invited them had I known those two other couples would not show up. How many no shows did you have, and how did/do you feel about it? I'm glad I did a buffet instead of plated! Most of our food got eaten.
Latest activity by Lussierk00@outlook.com, on February 23, 2020 at 12:07
Curious

January 2020 Manitoba

We had 6 people not show up that RSVP'd yes. One couple told us a couple weeks before the wedding that they couldn't after originally saying they could (which was annoying because we had just sent our headcount in and paid for them). 1 individual texted me the morning of saying she couldn't because of weather, 1 was sick but his wife was there and told us he wasn't feeling well. They all told us expect for one couple didn't say anything and we still haven't heard from them. No apologies, no congratulations, nothing. His parents said he had a last minute business trip or something but that's it, and we certainly didnt hear it from him. It's just frustrating because we paid $38 a plate and then people just decided to not show up we no explanation. But I am grateful for the guests that did show up, we had a wonderful time with them!

Beginner

May 2019 Alberta

View quoted message

Probably not! He's my husbands friend from high school and he's known to be pretty flaky so I'm not going to bother 💜 we had a buffet with four items and two of them ran out (salad and potatoes), the other two were almost gone (beef and cheese), so I don't think we paid very much extra. The rest of the food was passed appetizers that all got eaten. We didn't really lose any money when you look at it that way. It just sucks when people you wanted there don't show up!

I havent had my wedding yet. but this sucks to hear! are you going to reach out to the couple you didnt hear from?

Beginner

May 2019 Alberta

View quoted message

That is weird! All my 40+ crowd showed up. My issue with them though: standing in front of the photographer to take pictures with their own cameras/phones! My theory on that one is that they actually figured they were doing me a favour since most of the photos from their weddings were taken by friends and family. I don't think every wedding had a photographer in the 80's!

Top

October 2019 Manitoba

View quoted message

That is so weird - meanwhile all of our flakes/no-shows are the people who are aged 40 and up!

Beginner

May 2019 Alberta

View quoted message

Right? It's unfortunate that people don't understand that you're giving the caterer final numbers! I'm thankful most of our food got eaten at least. I really wanted to do plated instead of the buffet we did but I couldn't justify it knowing how flaky people can be (especially our crowd for some reason). I don't like to bash on my generation, but really, I've found the stereotype of a lot of millennials being flaky to sadly be true.

Top

October 2019 Manitoba

View quoted message

Reasons:

1. Need to stay and harvest (lots of farmers in the family and the snow really through them for a loop)

2. Truck driver - wouldn't make it back in time (he knew this well in advance though so both me and my DH aren't okay with him for that)

3. Food poisoning - totally get this one, but they no-showed rather than messaged either of us

4. Had to study.... this was my cousin... like???? You can't take one Saturday off? She didn't have a test or exam or anything coming up - just needed to study?? Dude, if she needed to study that bad, then I hate to say it - but she isn't going to pass...

5. Missed the bus shuttle from the city




Had I known people weren't going to come I could have invited more people from my work - not that I would want to, but they for sure would have loved to go to a wedding!

Beginner

May 2019 Alberta

View quoted message

What were their reasons for cancelling? One of mine apologized the morning of sending me a text... they were getting away from an unsafe living situation and they needed to leave that day for safety reasons. Which is totally fair! The other couple though, was my husbands friend who asked my husband "what day and time is the wedding again?" During the bachelor party, so I assumed he was coming. He did not show up. We had everyone there who we wanted there, but I wish I could have invited the girl from my high school who asked to come! I could have given her a plus one too!

Master

October 2019 Ontario

We had a few no-shows. I haven't really talked about it since the wedding but it did hurt to have people say they are coming and then either: cancel last minute or not show up at all. All our no-shows were also on my side so I felt the sting more than my DH. 2 happened a week before and we were actually able to fill their seats. We had 4 more just not show, 1 couple was my mom's cousins who made the trip but their mom died and they had to go home before the wedding. The other couple came to the ceremony but never showed up to the reception, I've tried reaching out but have been ghosted.

My advice is to try and not take personal offence to no-shows. 2 of our no-shows had a pretty good reason, 2 blamed it on poor planning/couldn't get out of work commitments last minute, and as I said 2 haven't gave an explanation. Who knows if I'll hear from the 2 ever again but try and focus on ALL the guests who did show up and showed their love and support for you guys.

Top

October 2019 Manitoba

We had 195 confirmed attending but roughly 8 cancelled last minute (day before/ day of), and the other 8 or so did a no-show for a total of 16 "no-shows". Ended up letting people find their own seats because it messed with the tables so much

I am one to kind of hold onto things like this so come their wedding although I won't "no-show", I just will "less-show" on the presentation... We had a fairly cheap wedding but it would have saved us a couple hundred on food had we not had to pay for 16 people who didn't come...

Master

October 2019 Ontario

We had 110 (including us), so 108 guests RSVP yes to the wedding. I tried so hard not to focus on who didn't show, but very hard when you have a head table and are sitting there looking at your guests, knowing the tables, and seeing empty seats. I made a mental note and made sure to put it in my phone at some point.

We had 7 people no show... who told us they were coming, and then one didn't come for dinner, but showed up afterwards. It was very disappointing that people just didn't show up and couldn't even tell me they weren't coming. Thankfully my venue was amazing and took off a couple plates that we had already paid for, but we still had to eat the cost for a couple people.




Featured

June 2022 Ontario

That blows my mind though I know it is pretty common. I couldn't imagine not showing up to a wedding without an explanation.

Featured

August 2017 Ontario

1% no show though we did get notified by one couple about going to the hospital due to health issues occurring.

Groups
WeddingWire Article Topics