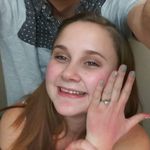 Lussierk00@outlook.com
Winnipeg, Manitoba · From September 2018
I am a fun loving girl who never imagined falling in love and wanting to get married so young, but here I am! I have a wonderful job working at a... View more
I am a fun loving girl who never imagined falling in love and wanting to get married so young, but here I am! I have a wonderful job working at a preschool and having been really enjoying all the wedding planning I've been getting myself into.
Happily married 🎉
January 11, 2020

Something old something new?
What is everyone doing for their something old something new something borrowed and something blue? Or are you not doing it at all? Basically all I have so far are lots of something news lol. I'm...