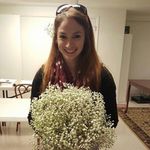 Joey
Baltimore, Maryland · From July 2017
Hello! For five happy years I was your devoted Community Manager. I've moved on now but my friend Lynnie cannot wait to learn more about you and help you... View more
Hello! For five happy years I was your devoted Community Manager. I've moved on now but my friend Lynnie cannot wait to learn more about you and help you through your wedding planning journey!

We did it!!
Sarah
, On September 15, 2021 at 20:24
It was a whirlwind adventure that took an extra year to complete but we did it!!I married my best friend on August.29th and although the day didn't go exactly as planned (breaker blew getting ready...




11