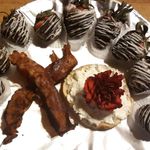 Hrhofstx
'Miami', Florida · From January 2020
I am a Teacher and water sports junkie in the Caribbean who is marrying a Businessman and sports junkie. We are so excited to be having a West African... View more
I am a Teacher and water sports junkie in the Caribbean who is marrying a Businessman and sports junkie. We are so excited to be having a West African beach wedding this summer!
Happily married 🎉
July 12, 2020

Bridal Makeup Tips - Lipstick or Stain
Marcy
, On February 17, 2020 at 00:37
Hey Ladies! I'm thinking about my makeup for the day of, and I'm looking for your tips! I don't usually wear lipstick, I sometimes don't like the feel of it on my lips, a friend suggested lip stain...