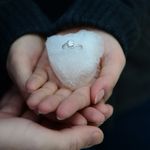 Erin
Cobourg, Ontario · From January 2017
I'm getting married September 30th 2017. I am very excited and looking forward to seeing it all come together!
Happily married 🎉
September 30, 2017

Fall wedding style - colours and textures
Hey ladies! I know Spring has just sprung but as an Autumn bride (and baby), the colours and textures of the Fall always seem to call to me. What are some of the ways you Fall brides are incorporating...



5