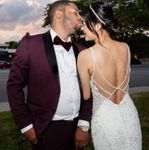 Daily
'Ottawa', Ontario · From January 2021
I am legally married 7 years ago but we never had our wedding ceremony. We were supposed to have it last August. Due to covid, we postponed it to August 5... View more
I am legally married 7 years ago but we never had our wedding ceremony. We were supposed to have it last August. Due to covid, we postponed it to August 5 2021.
Happily married 🎉
August 4, 2022

Real or artificial flowers
Future brides are you choosing real or artificial flowers for your wedding? I chose artificial for two reasons: save money and I can prepare my centerpieces a head of time. I will be using artificial...



4