Post content has been hidden
To unblock this content, please click here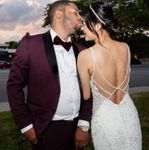 Expert
August 2022 Ontario
Kids or no kids at the wedding
Dear brides, are you guys doing adults only or inviting kids to your wedding? I have two kids so I am inviting some kids to my wedding. Like the closest friend kids and relatives. The youngest kid will be my sister's 9 months old son at our wedding.
Featured

August 2022 Ontario

We are having only my two nieces and my boyfriends 4 children, all teenagers. My cousins have smaller children ages 3-7 and I politely phrased in a way of "we are looking to give you a night out to enjoy yourselves!" : )

Featured

October 2023 Newfoundland and Labrador

Ive been to both weddings with and without. it is more common to have no kids present now more than ever, but ultimately it is up to your limiting the number is totally s good compromise as well. just make sure you are communicating this clearly with guests so there's no misunderstandings.

as a parent of 2 tiny terrors as i call them very lovingly haha a night off is always welcomed.

for our wedding we have opted for kids to attend until 9:30pm especially since our daughter is 7 and has been my little planning partner & her dad and i couldn't imagine her and her little cousins and friends all being together. after wards one of the grandparents will be hosting an "afterparty" for any of the kids who wish to participate with a stop at McDonalds and all the sleep over style shenanigans

Many of my friends have children so we invited adults with kids. However, make sure to think about entertainment for them. We hired party characters for this purpose. Also, I download coloring pages from this website https://coloring-for-kids.com/ and bought a lot of drawing pencils. I have to admit everything was great!


Beginner

January 2023 British Columbia

My fiance and I don't have kids, and we want to keep our wedding small and under 70 people. For us, the only kids/minors at the wedding would be very close family members which would total: two teenagers, one pre-teen, one 7yo, one toddler, and one baby. If we were to add all kids either by family or friends, it would be at least 30 additional more kids, mostly under age 10. It was a tough choice to make but the best one for us. On the surprising side, our friends have said it will be no problem to find a sitter and have a child-free evening for our upcoming wedding - which is a great relief to my anxious mind.


Curious

August 2022 Ontario

We are keeping it small and intimate, so we are doing only adults. A few of our friends and family have a lot of kids, so we would reach capacity very quickly.

Beginner

June 2022 Ontario

Definitely having kids at my wedding! I'm creating a little kids corner, small tent with some toys, books, and a little table & 2 chairs (from Ikea) for them to have a fun space! Also making little goodie bags with fun things to keep them occupied if they get bored!!

Expert

August 2022 Ontario

View quoted message

Aww, that sounds lovely 😍

Curious

June 2023 Ontario

We will definitely be having children at our wedding. I couldn't imagine getting married without my nieces and nephews present.

Newbie

August 2022 Quebec

I have 2 kids aswell I am inviting kids. Don't understand why some wouldn't.

I've invited kids. I loved being included in weddings when I was a kid and I love seeing them at weddings. I'm really looking forward to their cute antics band wish more of our friends were bringing theirs. Personally don't understand why some exclude kids unless it's a headcount thing.

Frequent user

February 2024 Ontario

I have 5 kids coming under 12, 3 grandchildren & 1 niece, 1 nephew

Expert

August 2022 Ontario

View quoted message

Hahah!! Yeap!! The running part is a big no no! So those children better behave during my wedding😁😂😂. Just for the ceremony part. My family and friends know me well enough for that. 😁😂😂😂

Devoted

July 2022 Ontario

I prefer no kids at our wedding, however my FH has a 7yr old nephew which he is closed to and his Best Man kids. So I agreed to just those 3. I don't enjoy being at a wedding and seeing them running around. That's just my 2 cents lol. Even 3 a lot for me.

Frequent user

July 2022 Ontario

My FH has two kids (well teens) and didn't want then to be the only kids so we are including their cousins, so well have 6-8 teens. We restricted it to just immediate family's kids, otherwise our guest list (and costs) would have been significantly higher, we'd need a bigger venue, and tbh I just didn't want a wedding overrun with kids running around and parents having to cut the night early to get tired grumpy kids home to bed.

For us yes, we have a 5 year old who will be 7 by the time we say I do lol, and on my side I have neices and nephews and my fiances friends have kids also, so it gives her someone to play with aha

Beginner

August 2024 Ontario

We're having kids a lot of family on my side have kids so there's 12 of them coming

Newbie

August 2022 Ontario

I told guests no kids other than those in the wedding party— my son and niece.

Newbie

September 2022 Ontario

I want to say no kids at my wedding due to the fact we are at more upscale restaurant for our reception so kids would probably not enjoy the food and we are opting out of a dance floor and want to have more of a social/mingle vibe after dinner which they will probably be bored. Now here is the problem... I only have one cousin that has actual kids (under 12) and my fiancee only has one aunt that is being invited that has under drinking age so I feel like it would be singling the out.

Super

October 2021 Ontario

I did not want to have kids at the wedding. However, three families did not have anyone to look after their children, so they came.


Cousin's son was our ring bearer. Aunty came from Calgary with their son, and my hubby's cousin had a year old baby. So those are all the children we had there.

Devoted

September 2022 Alberta

We are having children at our wedding - a number of guests have younger children and as my fiancee's grandchildren may be in our wedding party, it wouldn't make sense to exclude other children. If other wedding guests choose not to bring them that's up to them, but the children will be invited.

Expert

August 2022 Ontario

View quoted message

Aww that's nice! I think kids or no kids is totally up to the bride and groom

Expert

August 2022 Ontario

View quoted message

I don't blame you! 20-30 kids might be too much 😂😂😜😜 best of luck to you and congrats on your big day!

Curious

November 2022 Ontario

We are letting all our family who have kids know their kids are absolutely welcome to come (and already accounted for) but if they want to have a child free night we encourage that as well since our wedding is out of town. My MOH is my daughter so we invited her best friend. We are having a small wedding so whatever the parents want to do that will help them come celebrate with us we are on board for.

Frequent user

August 2023 Ontario

We are not allowing kids because, if allowed, we would have between 20-30 kids in attendance. That's just...too much. Also, a lot of my fiance's cousin's children are small and in my experience small children don't do too well at weddings. They get bored and fussy.

Frequent user

October 2022 Manitoba

We are allowing kids. We have a big family with lots of kids in different age groups. They are part of the family and we want everyone there. Kids can make the dance floor a lot more fun

Frequent user

August 2022 Alberta


No kids at our wedding. We have some out of town guests who are bringing their kids as part of their vacation to come for the wedding and we are providing childcare for a select few for the night. We have had conversations with people about their children and politely asked them to not bring them.

We have a few friends either with new babies or who will have new babies by our date in August and they have already made plans. One of my FHs friends will have her baby a month before the wedding, we've added her mom to our guest list for the ceremony so she can attend have baby close. Worked out well for everyone.



Expert

August 2022 Ontario

View quoted message

Aww that's nice for giving the parents a choice 😁

View quoted message

My nephew is youngest at 5 but he's been to a wedding before and he was well behaved. I left it up to parents if they wanted to bring kids.

Expert

August 2022 Ontario

View quoted message

I see. 7 and 9 are not bad age. They'll be on their best behaviour. I think I'm having 9 kids with my sister 9 months old baby.

Since we have a 7 and 9 year old we are having kids. We want our children there but they would be so bored with only adults there. Even with that there will only be 9 kids total. Two them being teens. If we didn't have any children I don't think I would have children at the wedding.

Expert

August 2022 Ontario

View quoted message

That's fair enough since they hold 40 max. I'll feel the same If I'm only have 40 people. Kids add up too

Frequent user

August 2022 Alberta

No kids except our own daughter (she will be 6). Our venue only holds 40 people max. I would rather invite more adults who will enjoy the food/drinks than give any seats away to children.

However, I don't have any nieces or newphews. If I did and was close with them, that might change my mind.
Groups
WeddingWire Article Topics