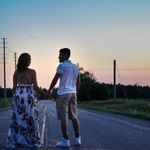 Julia
Toronto, Ontario · From May 2018
GETTING MARRIED ON AUGUST 8 2020 !
Happily married 🎉
September 26, 2020

Advice Nedded.
Julia
, On August 15, 2019 at 06:56
Hello beautiful people, so two things I'll be needing advice on. First: I just had a baby in May and breast feeding made most of my baby weight disappear however.. I got that mommy pouch and I'm in...