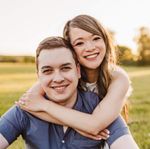 Aubrey
Whitby, Ontario · From July 2021
🕐 WEDDING COUNTDOWN...
June 3, 2023

i want to see your wedding bands!
Alyx
, On January 28, 2022 at 01:26
Let me see your wedding band 😍 I need some inspiration! I went wedding band shopping last week with my fiancé! I'm having trouble deciding on what goes best with my ring! What do you think?? I wish I...